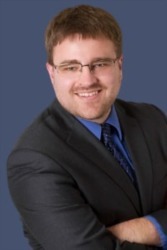 Broker Associate 
All the way from Minnesota, Blaine arrived in Northwest Indiana via South Dakota and Oklahoma with great motivation and enthusiasm for Real Estate. With a strong history in sales, whether working for his father in the family business or working in the service industry, Blaine has always had a gift with people and helping others find what they want.
Blaine bought his first home in 2006 and it was a smooth process. With the purchase of his second home to lay roots with his new family in the area, Blaine did not experience the same smooth process. Seeing the need for agents who would work as a partner with their client, educating and guiding them through the process, Blaine became motivated to pursue his realtor license. The challenge and satisfaction of helping clients find the perfect property, negotiating, and purchasing at the best price coupled with an efficient, effective and even enjoyable process is Blaine's goal – Best Services and Best Experience.
Blaine holds a Bachelor of Digital Cinematography, and uses his visual expertise to provide an extra edge to benefit his listings as well as help buyers to envision a home's potential. The only thing more enjoyable to him is spending time with his family or volunteering in the community. You can find him with his wife and toddler son on his time off as well as participating in church missions to help others less fortunate.